The coast is getting clearer, as Osun governorship election is getting closer day by day, aspirants are surfacing from different parties on a daily basis, political permutations, alignments, and consultation are at the top gear. Above all these, what is sacrosanct is many will be called but only one will be chosen.  Less than one week that the APC will be lifting the embargo placed on its members from political campaigns, the ruling party APC will fling its door open for campaigns. Political posters, stickers and banners with different slogans have been visible in every public space, including billboards, private and commercial buses.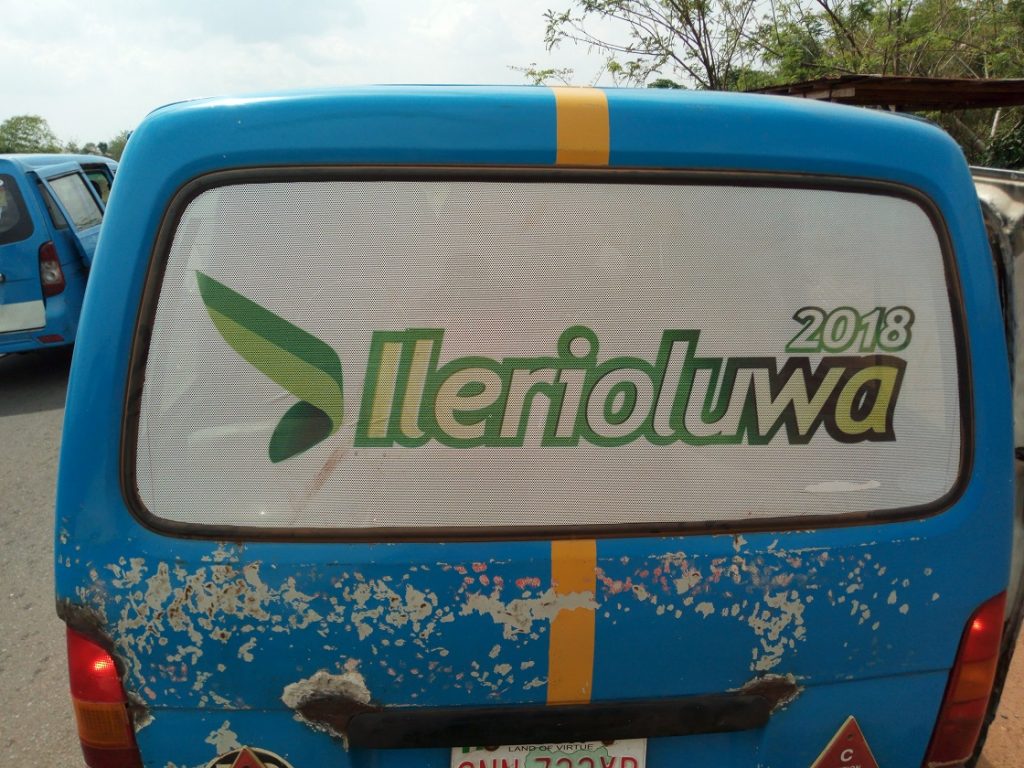 The latest revelation in the political ambience is the emergence of another political slogan "IleriOluwa 2018", there has been massive and growing awareness of this slogan on social media spaces and mini commercial buses "korope". It has been gathered by undisclosed source, that the slogan will be the nomenclature attached to the Governorship ambition of the current chief of staff, Alhaji Adegboyega Oyetola, his purported emergence will be a bitter pill to swallow for so many many politicians in the APC fold and the champion of zoning within the APC folds. This will further show the political strength of Asiwaju Bola Ahmed Tinubu and Ogbeni Rauf in Osun state.
The Iragbiji born Insurance Broker, who is also traced to the Tinubu dynasty as his stepbrother, has been rumored to be the anointed candidate from the Bourdillion. Foundation has already been laid on his behalf, which will make his victory at the party primaries a smooth sails. However victory at the primaries alone cannot necessarily hand him the keys to the Bola Ige house, he needs to erect pillars, colon and beams to make the bridge a strong one for him to walk on without fear of collapsing. This bridge needs to be a connection of the home and foreign-based politician for a smooth ride to the Bola Ige House.
Some of the home-based politicians have been agitating for a local politician that will be accessible to them, understand local politics,  patronage and stomach infrastructure. Some of them whom I spoke with, maintained that they will never support any foreign based politician, they maintained they can't stand seeing someone from another state to be appointed as aides to the Governor, where there are many qualified party member within the state to assume the position. They believe public and stomach infrastructure will be trickled down better with an home based politician in charge. Hence the home based politician must be carried along both in campaign process and governance.
Zoning is another factor that might stop the insurance guru from occupying the Bola Ige House after Aregbesola. Oyetola is from Iragbiji, Boripe local Government of the Osun Central Senatorial District, a region that has produced two consecutive Governors, Chief Bisi Akande from 1999 to 2003  and Prince Olagunsoye Oyinlola who took over from 2003 to 2010. To me, leadership is too serious a matter to be decided by accident of birth or of geography. What we really need is a leader that have the interest of his people at heart with concrete and genuine programmes for the people. Senator Isiaka Adeleke of blessed memory, was the only politician from Osun West Senatorial District fortunate to have been Governor for a very short period of time, a regime truncated by the military junta in 1993.
Some political analysts smack down the idea of zoning that it's alien to democracy, some say people that are champion of zoning are weaker competitor looking for a shortcut to power, to prevent better candidates. Some believe zoning is a political management tool to balance interests.
Consequently, while listening to the views of some politicians, they maintained zoning won't affect his chances so far he's sellable and unblemished. Several moves have been made recently by Ogbeni Aregbesola using the state apparatus, social media, mainstream media and the party structure to solidify Alhaji Gboyega Oyetola's governorship's ambition.
---
Facebook, Instagram and Twitter @osundotlife
Advertising on osun.life targets thousands of readers every day from Osun State and from all over the world. With a direct weekly reach of 70,000 and extended weekly reach of 200,000. Call Raphael on 07034651034 or check our rates page
Have a scoop or story suggestion that osun.life should cover? You can email your tip to us directly at editor@osun.life. We will respect your anonymity.
Interested in writing for us? Send an email to editor@osun.life tell us a bit about yourself and attach a writing sample.
(1219)